První český ryze internetový deník. Založeno 23. dubna 1996
24.9.2021 | Svátek má Jaromír
CENY: Předběžné nominace na Nebula Awards 2007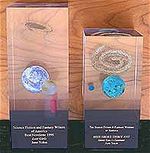 SFWA nám opět nachystala předběžné nominace na prestižní ceny Nebula - jedno z nejprestižnějších ocenění anglofonních zemí. Ano, jedná se o cenu Nebula (Nebula Award), tedy cenu udělovanou profesionálními spisovateli, což jsou v praxi členové SFWA (Science Fiction Writers of America), svým kolegům z branže. Historie ceny spadá až do roku 1965, kdy byla udělena první Nebula v kategorii román Herbertově Duně.
Nominace se udělují v sedmi kategoriích: román (literární dílo nad 40 000 slov), novela (práce o nejméně 17 500 a nejvíce 40 000 slovech), noveleta (mezi 7 500 a 17 500 slov), povídka (krátká práce mající ne více než 7 500 slov), velmistr žánru (uděluje se nepravidelně), dramatické představení (v letech 1973, 1974 a 1975), nejlepší scénář (od roku 1999). Letos bude udělena také Andre Norton Award (cena pro mladé autory).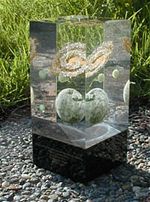 Z předběžných nominací se podle počtů hlasů členů SFWA vybere finálová skupina, o jejímž výherci rozhodne vybraná porota. Konečné výsledky se dozvíme po Nebula víkendu 26. dubna 2008, který proběhne v hotelu Omni v Austinu.
Určitě bude zajímavé sledovat, která díla se probojují do finále, některá už získala ocenění Hugo a dokonce vyšla také v češtině. Cena disponuje velkou prestiží a poměrně hodně zvedá zájem o vyznamenané knihy a jejich autory. K rozdílu mezi Hugem a Nebulou patří, kromě hlasování (veřejné x porota), zejména také výběr děl z uplynulých dvou let, namísto jednoho roku u Huga.
Předběžné nominace ceny Nebula: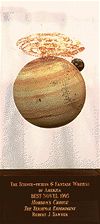 Román
Ragamuffin, by Tobias Buckell (Tor, Jun07)
The Yiddish Policemen's Union, by Michael Chabon (HarperCollins, May07)
Species Imperative #3: Regeneration, by Julie E. Czerneda (DAW, May06)
Vellum: The Book of All Hours, by Hal Duncan (Del Rey, Apr06 (Macmillan hardcover Nov05 (UK)), č. chystá Laser-books v roce 2008 pod názvem Pergamen - Kniha všech hodin.)
The Accidental Time Machine, by Joe Haldeman (Ace, Aug07)
The New Moon's Arms, by Nalo Hopkinson (Warner Books, Feb07)
Mainspring, by Jay Lake (Tor, Jun07)
Odyssey, by Jack McDevitt (Ace, Nov06)
The Outback Stars, by Sandra McDonald (Tor, May07)
Strange Robby, by Selina Rosen (Meisha Merlin Publishing Jul06)
Harry Potter and the Deathly Hallows, by J.K. Rowling (Scholastic Press, Jul07; č. jako Harry Potter a relikvie smrti, Albatros, 31. 1. 2008)
Rollback, by Robert J. Sawyer (Analog, Feb07 (serialized in Oct06 through Jan/Feb07 issues; Tor book, Apr07))
Blindsight, by Peter Watts (free Creative Commons versions) (Tor, Oct06)
novela
"The Helper and His Hero," by Matt Hughes (F&SF, Mar07 (Feb07 & Mar07))
"Fountain of Age," by Nancy Kress (Asimov's, Jul07)
"Stars Seen Through Stone," by Lucius Shepard (F&SF, Jul07)
"Kiosk," by Bruce Sterling (F&SF, Jan07)
"Memorare," by Gene Wolfe (F&SF, Apr07)
noveleta
"The Children's Crusade," by Robin Wayne Bailey (Heroes in Training, Martin H. Greenberg and Jim C. Hines, Ed., DAW, Sep07)
"A Flight of Numbers Fantastique Strange," by Beth Bernobich (Asimov's, Jun06)
"Things That Aren't," by Michael A. Burstein and Robert Greenberger (Analog, Apr07)
"The Merchant and the Alchemist's Gate," by Ted Chiang (F&SF, Sep07, č. jako O kupci a alchymistově bráně, Magazín F&SF 6/2007)
"Sister of the Hedge," by Jim C. Hines (Realms of Fantasy, Jun06)
"The Evolution of Trickster Stories Among the Dogs Of North Park After the Change," by Kij Johnson (Coyote Road, Trickster Tales, Ellen Datlow and Terri Windling, Ed., Viking Juvenile, Jul07)
"The Sun God at Dawn, Rising from a Lotus Blossom," by Andrea Kail (Writers of the Future Volume 23, Algis Budrys, Ed., Galaxy Press, Sep07)
"Safeguard," by Nancy Kress (Asimov's, Jan07)
"Alastair Baffle's Emporium of Wonders," by Mike Resnick (Asimov's, Jan08)
"Tonino and the Incubus," by Peg Robinson (Helix: A Speculative Fiction Quarterly, WS & LWE, Ed., Oct06 (Fall06 issue -- #2))
"Pol Pot's Beautiful Daughter," by Geoff Ryman (F&SF, Nov06, č. jako Pol Potova krásná dcera; Magazín F&SF 05/2007)
"The Fiddler of Bayou Teche," by Delia Sherman (Coyote Road, Trickster Tales, Ellen Datlow and Terri Windling, Ed., Viking Juvenile, Jul07)
"Not of this Fold," by William Shunn (An Alternate History of the 21st Century, Spilt Milk Press, Sep07)
povídka
"Unique Chicken Goes In Reverse," by Andy Duncan (Eclipse 1: New Science Fiction And Fantasy, Jonathan Strahan, Ed., Night Shade Books, Oct07)
"The Padre, the Rabbi, and the Devil His Own Self," by Melanie Fletcher (Helix: A Speculative Fiction Quarterly, WS & LWE, Ed., Oct06 (Fall06 issue -- #2))
"Always," by Karen Joy Fowler (Asimov's, May07 (Apr/May07 issue))
"For Solo Cello, op. 12," by Mary Robinette Kowal (Cosmos, Mar07 (Feb/Mar07))
"Titanium Mike Saves the Day," by David D. Levine (F&SF, Apr07)
"The Story of Love," by Vera Nazarian (Salt of the Air, Prime Books, Sep06)
"Captive Girl," by Jennifer Pelland (Helix: A Speculative Fiction Quarterly, WS & LWE, Ed., Oct06 (Fall06 issue -- #2))
scénář
Children of Men, by Alfonso Cuaron, Timothy J. Sexton, David Arata, Mark Fergus, and Hawk Ostby (Universal Studios, Dec06, č. Potomci lidí)
Pan's Labyrinth, by Guillermo del Toro (Time/Warner, Jan07, č. Faunův labyrint)
The Discarded, by Harlan Ellison and Josh Olson (Masters of Science Fiction, ABC-TV, Apr07, č. v sérii Mistři SF - vysílalo AXN, povídková předloha ve Fantázii 17 pod názvem Zatracenci)
Blink, by Steven Moffat (Doctor Who, BBC/The Sci-Fi Channel, Sep07 (Aired on SciFi Channel 14 Sep07))
The Prestige, by Christopher Nolan and Jonathon Nolan (Newmarket Films, Oct06 (Oct 20, 2006 -- podle románu Christophera Priesta), č. Dokonalý trik)
V for Vendetta, by Larry Wachowski and Andy Wachowski (Warner Films, Mar06 (released 3/17/2006 -- Written by the Wachowski Brothers, based on the graphic novel illustrated by David Lloyd and published by Vertigo/DC Comics))
World Enough and Time, by Marc Scott Zicree and Michael Reaves (Star Trek: New Voyages, http://www.startreknewvoyages.com, Aug07 (Aired 8/23/07))
Andre Norton Award
Vintage: A Ghost Story, by Steve Berman (Haworth Positronic Press, Mar07)
Into the Wild, by Sarah Beth Durst (Penguin Razorbill, Jun07)
Harry Potter and the Deathly Hallows, by J.K. Rowling (Scholastic Press, Jul07)
Flora Segunda: Being the Magickal Mishaps of a Girl of Spirit, Her Glass-Gazing Sidekick, Two Ominous Butlers (One Blue), a House with Eleven Thousand Rooms, and a Red Dog, by Ysabeau S. Wilce (Harcourt, Jan07)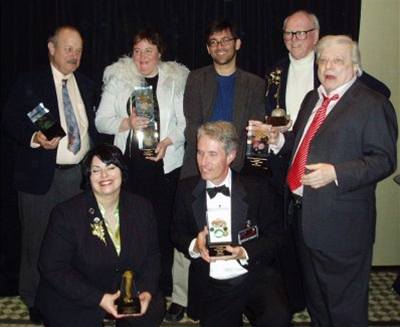 Vítězové z minulého ročníku.
(podle www.sfwa.org)
Prohlédněte si akční letáky všech obchodů hezky na jednom místě!