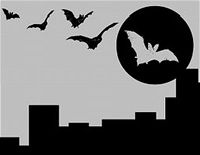 Do fantastiky zahrnujeme nejenom vědeckofantastickou a fantasy literaturu, ale také horory. A nebyl by to správný žánr, kdyby v anglofonním světě neměl šanci získat vysoce prestižní ocenění. Stejně jako SF má Huga a Nebulu, Fantasy WFA, tak nejlepší hororová díla vydaná v uplynulém roce mohou získat Cenu Brama Stokera.
Letošní nominace jako obvykle udělila Asociace hororových spisovatelů (Horror Writers Association). Vítězové v jednotlivých kategoriích budou vyhlášeni na World Horror Convention 25.-28. března 2010 v Brightonu (Anglie, Velká Británie). Uvidíme, jestli některá nominovaná díla proniknou na náš trh... Doplním jenom, že HWA pro letošní rok udělila ceny za celoživotní přínos hororu Brianu Lumleymu a Williamu F. Nolanovi.
Román
Audrey's Door, Sarah Langan (Harper)
Patient Zero, Jonathan Maberry (St. Martin's Griffin)
Quarantined, Joe McKinney (Lachesis)
Cursed, Jeremy Shipp (Raw Dog Screaming Press)
Prvotina
Breathers, S. G. Browne (Broadway Books)
Solomon's Grave, Daniel G. Keohane (Dragon Moon Press)
Damnable, Hank Schwaeble (Jove)
The Little Sleep, Paul Tremblay (Henry Holt)
Novela
Dreaming Robot Monster, Mort Castle (Mighty Unclean)
The Hunger of Empty Vessels, Scott Edelman (Bad Moon)
The Lucid Dreaming, Lisa Morton (Bad Moon)
Doc Good's Traveling Show, Gene O'Neill (Bad Moon)
Povídka
"Keeping Watch", Nate Kenyon (Monstrous: 20 Tales of Giant Creature Terror)
"The Crossing of Aldo Ray", Weston Ochse (The Dead That Walk)
"In the Porches of My Ears", Norman Prentiss (Postscripts 18)
"The Night Nurse", Harry Shannon (Horror Drive-In 7/09)
Antologie
He Is Legend: An Anthology Celebrating Richard Matheson, Christopher Conlon, ed. (Gauntlet)
Lovecraft Unbound, Ellen Datlow, ed. (Dark Horse)
Poe, Ellen Datlow, ed. (Solaris)
Midnight Walk, Lisa Morton, ed. (Dark House)
Povídková sbírka
Martyrs and Monsters, Robert Dunbar (DarkHart)
Got to Kill Them All and Other Stories, Dennis Etchison (Cemetery Dance)
A Taste of Tenderloin, Gene O'Neill (Apex)
In the Closet, Under the Bed, Lee Thomas (Dark Scribe)
Dílo mimo beletrii
Writers Workshop of Horror, Michael Knost (Woodland)
Cinema Knife Fight, L. L. Soares & Michael Arruda (Fearzone)
The Stephen King Illustrated Companion, Bev Vincent (Fall River)
Stephen King: The Non-Fiction, Rocky Wood & Justin Brook (Cemetery Dance)
Poezie
Double Visions, Bruce Boston (Dark Regions)
North Left of Earth, Bruce Boston (Sam's Dot)
Barfodder, Rain Graves (Cemetery Dance)
Chimeric Machines, Lucy A. Snyder (Creative Guy)
Více informací o ceně a asociaci získáte na www.horror.org.