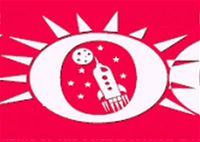 Na serveru Locus Online byl 21. června 2008 zveřejněn seznam vítězů ceny časopisu Locus. V půlce dubna bylo uzavřeno hlasování, do kterého byly přijímány, nejenom klasické tištěné formuláře (předplatitelé Locusu mohli využít i on-line dotazník na serveru Locus Online), definitivní výsledky jsou tedy již známy.
Specifikou Locusu je výrazná převaha "poučených" čtenářů - ať již lidí věnujících se SF profesionálně či poloprofesionálně nejen jako spisovatelé, ale i jako knihkupci, editoři a tak podobně, nebo zkušených fanoušků. Tím se liší od cen Hugo - kde hlasují fanoušci, nadšení, ale ne vždy systematicky a dlouhodobě se věnující žánru, i od cen Nebula - tam hlasují pouze spisovatelé, navíc pouze ti sdružení v SFWA. Proto dále uvedený seznam je velmi reprezentativním výběrem prací i osobností loňského roku a určitě si zaslouží pozornost i českých nakladatelů, hledajících inspiraci pro své ediční plány.
Dodejme k výše uvedenému několik drobností. Cena Locus se uděluje od roku 1971 za nejlepší díla roku uplynulého. Vítězové jednotlivých kategorií byli vyhlášeni 21. června 2008 při Locus Awards Ceremony v Seattlu během víkendu Science Fiction Museum's Hall of Fame. Nemálo titulů v češtině již vyšlo nebo se chystá k vydání, takže se stále máme na co těšit a určitě stojí za to vědět, že i my můžeme číst stejné příběhy jako zahraniční fanoušci SF. Vítězové jednotlivých kategorií jsou uvedeni na prvním místě tučně.
SF NOVEL
The Yiddish Policemen's Union, Michael Chabon (HarperCollins)
The Accidental Time Machine, Joe Haldeman (Ace)
Brasyl, Ian McDonald (Pyr)
Halting State, Charles Stross (Ace; Orbit UK)
Spook Country, William Gibson (Putnam; Viking UK)
FANTASY NOVEL
Making Money, Terry Pratchett (Doubleday UK; HarperCollins; č. Nadělat prachy, Talpress - červen 2008)
Endless Things, John Crowley (Small Beer Press; Overlook)
Pirate Freedom, Gene Wolfe (Tor)
Territory, Emma Bull (Tor)
Ysabel, Guy Gavriel Kay (Viking Canada; Roc)
YOUNG ADULT BOOK
Un Lun Dun, China Miéville (Ballantine Del Rey; Macmillan UK; č. Un Lun Dun, Laser 2007)
Extras, Scott Westerfeld (Simon Pulse; Simon & Schuster UK)
The H-Bomb Girl, Stephen Baxter (Faber & Faber)
Magic's Child, Justine Larbalestier (Razorbill)
Powers, Ursula K. Le Guin (Harcourt; Gollancz)
FIRST NOVEL
Heart-Shaped Box, Joe Hill (Morrow; Gollancz; č. Černá krabice. Beta Dobrovský 2007)
City of Bones, Cassandra Clare (Simon & Schuster/McElderry)
Flora Segunda, Ysabeau S. Wilce (Harcourt)
The Name of the Wind, Patrick Rothfuss (DAW; Gollancz)
One for Sorrow, Christopher Barzak (Bantam Spectra)
NOVELLA
"After the Siege", Cory Doctorow (The Infinite Matrix Jan 2007)
"All Seated on the Ground", Connie Willis (Asimov's Dec 2007)
"Memorare", Gene Wolfe (F&SF Apr 2007)
"Muse of Fire", Dan Simmons (The New Space Opera)
"Stars Seen through Stone", Lucius Shepard (F&SF Jul 2007)
NOVELETTE
"The Witch's Headstone", Neil Gaiman (Wizards)
"Dark Integers", Greg Egan (Asimov's Oct/Nov 2007)
"The Merchant and the Alchemist's Gate", Ted Chiang (F&SF Sep 2007; česky O kupci a alchymistově bráně - F&SF CZ 6/2007)
"Trunk and Disorderly", Charles Stross (Asimov's Jan 2007)
"We Never Talk About My Brother", Peter S. Beagle (Orson Scott Card's Intergalactic Medicine Show Jun 2007)
SHORT STORY
"A Small Room in Koboldtown", Michael Swanwick (Asimov's Apr/May 2007)
"The Last and Only, or, Mr. Moscowitz Becomes French", Peter S. Beagle (Eclipse One)
"Last Contact", Stephen Baxter (The Solaris Book of New Science Fiction)
"Tideline", Elizabeth Bear (Asimov's Apr/May 2007)
"Who's Afraid of Wolf 359?", Ken MacLeod (The New Space Opera)
COLLECTION
The Winds of Marble Arch and Other Stories, Connie Willis (Subterranean)
The Dog Said Bow-Wow, Michael Swanwick (Tachyon)
The Jack Vance Treasury, Jack Vance (Subterranean)
Overclocked, Cory Doctorow (Thunder's Mouth)
Things Will Never Be the Same, Howard Waldrop (Old Earth)
ANTHOLOGY
The New Space Opera, Gardner Dozois & Jonathan Strahan, eds. (Eos; č. chystá Laser na rok 2008)
The Best of Lady Churchill's Rosebud Wristlet, Kelly Link & Gavin J. Grant, eds. (Ballantine Del Rey)
The Coyote Road, Ellen Datlow & Terri Windling, eds. (Viking)
The Year's Best Fantasy & Horror 2007: Twentieth Annual Collection, Ellen Datlow, Kelly Link & Gavin J. Grant, ed. (St. Martin's)
The Year's Best Science Fiction: Twenty-Fourth Annual Collection, Gardner Dozois, ed. (St. Martin's)
NON-FICTION
Breakfast in the Ruins, Barry N. Malzberg (Baen)
Brave New Words: The Oxford Dictionary of Science Fiction, Jeff Prucher, ed. (Oxford University Press)
The Country You Have Never Seen, Joanna Russ (Liverpool University Press)
Gateways to Forever: The Story of the Science-Fiction Magazines from 1970 to 1980, Mike Ashley (Liverpool University Press)
Shadows of the New Sun: Wolfe on Writing/Writers on Wolfe, Peter Wright (Liverpool University Press)
ART BOOK
The Arrival, Shaun Tan (Lothian 2006; Scholastic)
Dreamscape: The Best of Imaginary Realism, Claus Brusen & Marcel Salome, eds. (SalBru)
Emshwiller: Infinity x Two, Luis Ortiz, ed. (Nonstop Press)
Mervyn Peake: The Man and His Art, compiled by Sebastian Peake & Alison Eldred, edited by G. Peter Winnington (Peter Owen)
Spectrum 14: The Best in Contemporary Fantastic Art, Cathy Fenner & Arnie Fenner, eds. (Underwood)
EDITOR
Ellen Datlow
Gardner Dozois
David G. Hartwell
Patrick Nielsen Hayden
Gordon Van Gelder
MAGAZINE
F&SF
Analog
Asimov's
Lady Churchill's Rosebud Wristlet
Subterranean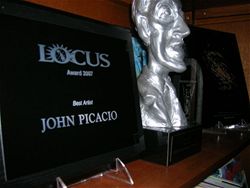 PUBLISHER
Tor
Baen
Bantam Spectra
Night Shade Books
Subterranean Press
ARTIST
Charles Vess
Stephan Martiniere
John Picacio
Shaun Tan
Michael Whelan